Alicyclobacillus acidoterrestris clay brief
Heat, acid, potassium silicate clay is for the binder and inorganic polymeric materials for curing agent, silicate acid filler for multi-component composition with the ability to stress the new anti-corrosion materials. It overcomes the acid is satisfied that the permeability of clay, low bond strength, water-poor, unhealthy high temperatures,low resilience shortcomings.
Clay in acid medium have not contain crystalline salt water, and so they have very good pickling stability.(Fluoride acid to get impatient)
Room temperature curing, easy to use, easy to transport, moisture storage.
Clay can be used for various concentrations of sulfuric acid, hydrochloric acid, nitric acid, phosphoric acid, acid,hypochlorous, formic acid, oxalic acid, acetic acid, etc.; Various organic solvents; Various acid salts; Chlorine gas, such as hydrogen peroxide oxidation medium. Clay using nontoxic curing agent, in the operation and construction personnel poisoning, and can be widely used in petroleum, chemicals,metallurgy, agricultural chemicals, food, fermentation hydrolysis, pickling industries, the reactor. Tank, Tajikistan pool, terrace, electrolyzers and other preservation projects.

KP1 Clay Powder Use Cases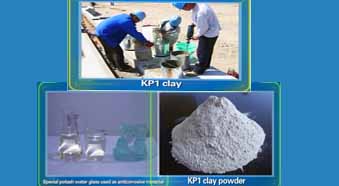 The ovenproof and acid proof clay which was made of potassium silicate and KP1 clay powder produced by our company is necessary material in anticorrosive engineering industry. It uses non-toxic solidification agent,so it'll do no harm to operators and workers and is widely used as reactive kettle of many industries such as oil industry, chemical industry, metallurgical industry, pesticide industry, food industry, fermentation & hydrolyzation industry, pickling industry,etc. And it's also used in some anticorrosion engineering of storage tank, tower & pool, floor, electrolytic cell, etc.