Application:
Sodium Silicate is the indispensable raw material of washing powder, detergent and soap. Settling agent and water softener for water treatment; It is the fundamental material of the chemical products such as silica gel, white carbon black, zeolite molecular sieve. It can also be used in the industry of silicon fertilizer, binder, foundry, mineral floating select, acid-resisting material, ceramic,printing & dyeing, fire-proof, waterproofing project, silicon&aluminum catalyst for oil's catalytic, plugging project and constructional material.
Detailed Specification:
Modulus

(M)

Silicon content

(%)

Sodium content

(%)

Total solids content

(%)

1.9-2.1

64.2-66.4

32.6-34.8

≥99

2.2-2.4

67-70

30-32

≥99

2.4-2.6

69-71

28-30

≥99

2.7-2.9

71.5-73.5

26-28

≥99

2.8-3.0

72-75

25-27

≥99

3.1-3.3

73.5-75.5

23-25

≥98.5

3.2-3.4

74-76

22-24

≥98.5
Packing: 50kg/bag or 1000kg/bag

Sodium Silicate Use Cases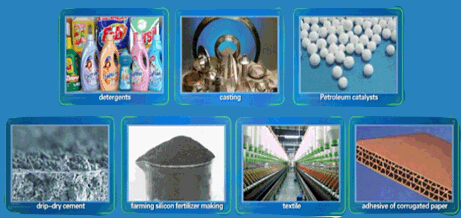 Sodium Silicate has a wide application range. In chemical system, it is used to produce silica sol, 4A zeolite, and also it is an indispensable raw material to produce detergents. In addition, it is used in casting, Petroleum catalysts,drip-dry cement, farming silicon fertilizer making, textile and the adhesive of corrugated paper.